Featured Products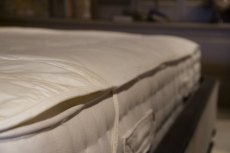 Vispring Quilted Mattress Protector
And So To Bed recommends the use of a mattress protector to keep your mattress surface in beautiful condition. The quilted mattress protector is made from softly quilted percale cotton with a pure new wool filling. Available in all standard sizes and made to order for non standard sizes. Please ask for more details.
£ 154.00
£ 123.00
---
---
---
---
---
---
---
---
---
---
---
---
---
---
---
---
Vispring Mattresses
Frequently Asked Questions
How long does a Vispring mattress last?
A Vispring mattress can last for many more years than the industry average of 7 to 10 years due to the generous volume of natural fillings used for upholstery in the mattress. Vispring offers a 30-year manufacturer guarantee. Though it's important to remember the lifespan of a Vispring mattress will depend on the level of care it receives and the individual preferences and needs of the user. A Vispring mattress can provide years of comfortable, supportive sleep with proper care.
The Vispring guarantee does not extend to goods which have been damaged through unreasonable or improper use, are accidentally damaged (including unauthorised repairs or alterations), are in a soiled or unsanitary condition, or are wilfully damaged.
If Vispring mattresses are used on divans other than those supplied by Vispring, they must be of an appropriate quality of construction. In the case of slatted bases, the gap between the slats should be no more than 7.5 cm, and we recommend that a mattress pad is placed between the mattress and the slats to extend the life of the mattress. Please don't smoke in bed or place the mattress near an open flame.
Can you flip a Vispring mattress?
Our best guidance on looking after your new Vispring mattress is to turn it twice a month for the first three months and seasonally after that (four times a year). This should be done by flipping it over upside down, and this is possible because the natural fillings used for upholstery are identical on both surfaces of the mattress. By flipping your Vispring mattress, you're helping to keep the fillings evenly dispersed and also prolonging the general quality and life of the mattress.