Featured Products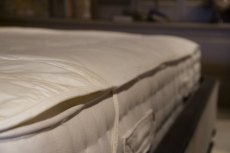 Vispring Quilted Mattress Protector
And So To Bed recommends the use of a mattress protector to keep your mattress surface in beautiful condition. The quilted mattress protector is made from softly quilted percale cotton with a pure new wool filling. Available in all standard sizes and made to order for non standard sizes. Please ask for more details.
£ 154.00
£ 123.00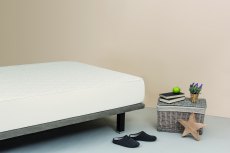 Natursan Top Wool Quilted Mattress Protector
This natural mattress protector is made from 100% cotton fabric with pure virgin wool filling, giving excellent heat insulation. The wool filling provides natural thermo-regulating properties. Keeping you cool in summer and warm in winter, recommended all year round.
£ 70.00
£ 63.00
---
---
---
---
---
Mattress Protectors
Why do you need a mattress protector?
The average person spends about a third of their lives in bed, meaning that your mattress can become a breeding ground for bacteria, fungi and dust mites- all of which can cause skin irritation, illness and sleep disruption.
According to The Sleep Council:
The average adult loses 285ml of fluid each night.

An average bed contains 10,000 dust mites that produce more than two million droppings, which can aggravate allergies.

Humans shed around 454g of dead skin over the course of a year, much of which ends up nestled in your bed.

A dirty mattress can contain worrying levels of staphylococcus, enterococcus, norovirus and even MRSA.
Not only this but the moisture from our bodies while sleeping can make its way deep into the mattress, causing issues within.
A mattress protector works as a barrier between you and your mattress, catching the fluid, dust mites, stains and so on before they reach your mattress. Unlike the mattress, the protector can be thrown in the washing machine and cleaned as regularly as your bedding.
Mattresses are very difficult to clean, especially without causing damage by adding to the moisture or dislodging the filling. For this reason, we at And So To Bed believe prevention is better than damage, rather than finding a way to reverse it.
Luxury mattress protector brands at And So To Bed
At And So To Bed we strongly recommend the use of a mattress protector to keep your mattress in the best possible condition for as long as possible, helping you get the most out of your investment. We have a range of luxury mattress protectors from some of the best designer bedding brands around.
Vispring: with their range of mattresses being so luxurious, it is no surprise that Vispring want to offer their customers a chance to protect them by creating a range of mattress protectors, helping to keep your Vispring mattress in tip top condition.
Brinkhaus: As well as other luxury bedding items, Brinkhaus also makes mattress protectors to help customers prevent any damage being caused to the outer and inner layers of their mattresses, which can dramatically decrease the lifespan.
TEMPUR®: TEMPUR® mattresses come with washable covers anyway, but those looking to double the protection can opt for a TEMPUR® mattress protector too. Their protectors feature an 'intelligent membrane' that prevents the mattress from getting wet and is one of the thinnest of its type on the market.
NATURSAN: Natursan natural mattress protectors are made from 100% cotton fabric with pure virgin wool filling, which provides excellent thermo-regulating properties, allowing you to stay cool in summer and warm in winter, all while protecting your mattress.