Featured Products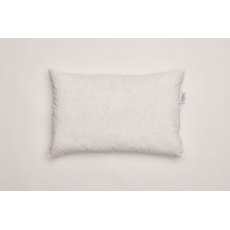 Vispring European Duck Feather and Down Luxury Pillow
Offering the perfect balance between comfort and support, this premium pillow is filled with European duck feather and down. 90% European duck feather and 10% duck down filling encased in a 100% cotton Nomite® cover. The higher ratio of feathers gives a firmer support feel, making one pillow ideal for front or back sleepers, or perfect to use as an under-pillow for added support with a softer, down, top pillow. The addition of the light and naturally airy, European duck down provides an incredibly soft and comfortable surface to lie on.
£ 90.00
£ 72.00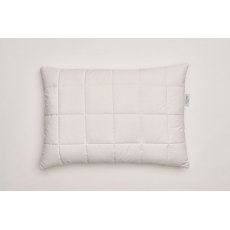 Vispring Adjustable Wool Luxury Pillow
Fully adjustable and customisable for front, side or back-sleeping, this luxurious wool pillow is expertly handcrafted and filled with sumptuous British wool for natural comfort and temperature control. 100% authentic traceable British wool filling encased in a wool-fill quilted, 100% BCI cotton cover. This adjustable luxury wool pillow is as practical as it is comfortable. Handteasing of the wool cluster fillings will provide more loft for a softer feel, while gentle tamping and reshaping of the fillings will create a flatter, firmer feel.
£ 130.00
£ 104.00
---
---
---
---
---
---
---
---
---
---
---
---
---
Pillows
At And So To Bed we stock only the best, luxury bedding. Our designer pillow range from brands such as Vispring, Brinkhaus, TEMPUR® and And So To Bed are made from top quality materials, providing superior comfort and support while you sleep.
Which pillows are best for sleep?
Although it is recommended that you sleep on your back to keep your spine aligned, some of us struggle to maintain this position while asleep, meaning some are front, side or combination sleepers. So, which pillows should you choose for the best quality sleep?
The best pillow for front sleepers
If your preferred sleeping position is on your front, then opting for a softer low-profile pillow is recommended. This is because it will allow your head to sink to be in line with your mattress, keeping the spine aligned and preventing any arching, which may cause discomfort and interrupt sleep.
The best pillows for sleeping on your back
Sleeping on your back is the recommended sleeping position to ensure the best quality sleep and prevent damage to your back. Those that sleep in this position should choose a medium pillow to support your head without raising it too much, keeping your neck and spine correctly aligned.
The best pillows for side sleepers
If you prefer to sleep on your side, we recommend a firmer, higher profile pillow that offers enough height to support your head and neck allowing your spine to correctly align. TEMPUR® offers a great selection of pillows to support the neck and shoulders of side sleepers.
The best pillows for combination sleepers
If you find yourself moving positions throughout the night, then you should choose a pillow with a medium firmness. This will mean the pillow is firm enough to support when on your back yet soft enough to allow you to sink into the mattress if you end up on your front.
Whichever position you sleep, you will also need to take into account the softness of your mattress when choosing a pillow. The more your body sinks into your mattress, the lower the height of the pillow required, the most important thing to achieve is spine alignment.


How long do pillows last?
On average a pillow will need to be replaced every 1-2 years, but this can depend on the material and the wear and tear.

You will need to replace your pillow if you notice any of the following issues:
Your head and shoulders are no longer supported meaning your spine is no longer aligned while sleeping
You wake up with tension headaches caused by a lack of support from your pillow
You are regularly waking as a result of congestion caused by allergies
Your pillow starts to feel flat, uncomfortable, or lumpy
You've noticed a change to your sleeping position
You are frequently having to fluff your pillows to get them back into shape
The pillow is yellow or stained