---

Bronte Bed
A timeless classic brass bedstead available in a modern, black finish with either brass or nickel accents. The unique chamfered finials and sculpted connectors elevate the Bronte from the traditional aesthetic to a more modern interpretation which is at home in both a modern or classic interior.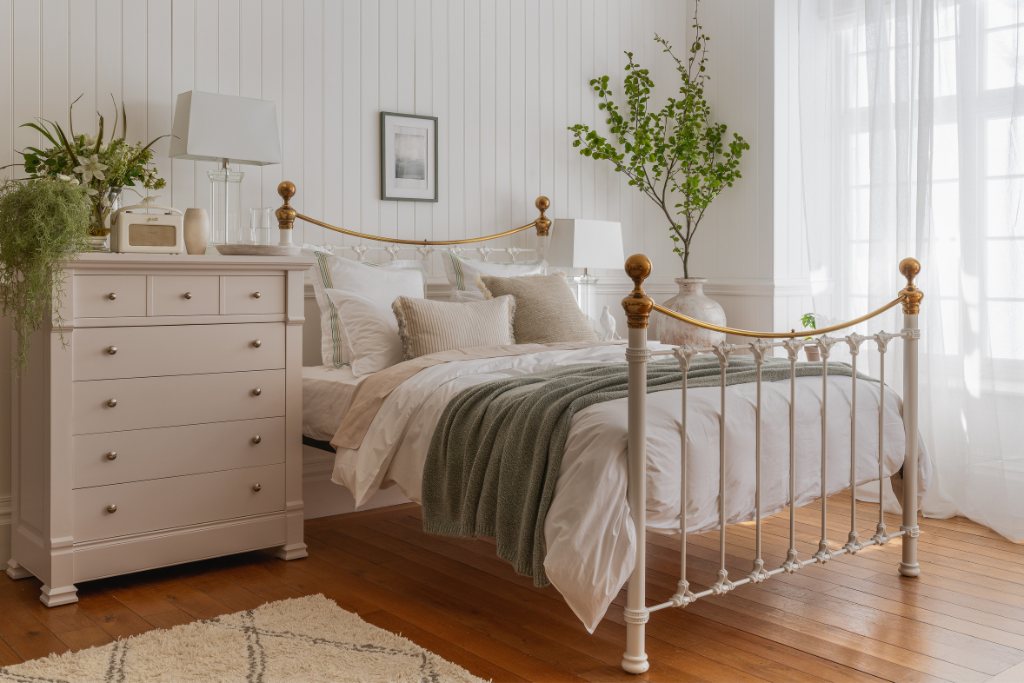 Juniper Bed
Revel in the romance of the authentic Victorian styling of our Juniper luxury metal bed. This enchanting bed is sure to have an enduring appeal. A full range of traditional luxury bedroom furniture and luxury bed linen is also available.
---
Cast Iron Beds
About Our Cast Iron Bedsteads
Here at And So To Bed, we've taken inspiration from Victorian cast iron bed frames, keeping all the best elements and adding subtle modern touches to make our models suitable for all bedroom styles.
What are the benefits of using a cast iron bed frame?
Cast iron bed frames are typically known for their durability and strength, as well as their classic, timeless look. Cast Iron beds can add a touch of elegance and sophistication to any bedroom decor. Cast iron is also resistant to warping and bending, making it a reliable choice.
What are cast iron bed frames made of?
Cast iron bed frames are typically made from a combination of iron, carbon, and silicon but this can vary for each bed.
How do I choose the right size cast iron bed frame?
To choose the right size cast iron bed frame, measure the length and width of your mattress in cm. You can then use these measurements to identify the size of your mattress in our bed & mattress size guide, helping you to select an appropriately sized bed frame.
How can I incorporate a cast iron bed frame into my bedroom decor?
To incorporate a cast iron bed frame into your bedroom decor, choose bedding, furniture and accent pieces that complement the colour and style of the frame. Neutral colours work best, such as black, grey, brown and white.